We have recently unveiled some exciting and innovative product enhancements at Intranet Connections, including the release of two new templates for our Healthcare Intranet and our Financial Intranet. Just in case you missed it, don't miss out on our templates for Corporate Intranet too!
Healthcare Intranet for Patient Care
Over these past 15 years, we've worked with over 200 healthcare organizations that have successfully utilized our intranet software. During this time we acquired best practices, tips, and insights to deliver a healthcare intranet specifically designed to enhance patient care in healthcare organizations. We continue to be inspired by each new Healthcare Intranet client. Gold Coast Hospital is a great example of our many intranet clients that innovate and inspire.
Top 10 Healthcare Intranet Features
There are over 60 applications built directly into your Healthcare Intranet, including staff directory, centralized document management, multi-site functionality, and online forms. Itemized below are just some of the features within our Healthcare Intranet (see feature checklist), which provide unique benefits for hospitals, medical centers, end-of-life care facilities, and other healthcare organizations.
1. Healthcare Mega Menus
Healthcare organizations are multi-level, multi-organizational structures. Your intranet needs to facilitate the communication and collaboration of this multi-dimensional workplace while simplifying how your employees access resources. Now you can with Healthcare Intranet Mega Menus.
Your intranet comes with a pre-built Mega Menu that delivers endless value to your intranet manager and your employees. Employees can access the most popular and important areas on your intranet with ease, including your:
Staff Directory
Cafeteria Menu
Online Timesheets & Forms
Staff Training Calendar
Policies & Procedures
Community News
And many other resources
Mega Menus on your Healthcare Intranet delivers four times the amount of navigational real estate formerly available on a traditional, single-item menu layout. Additionally, it allows you to incorporate many interactive visual elements to engage your staff and direct them to the more popular resources on your intranet.
Our Staff Training application is arguably the most used area on our Healthcare Intranet. With the majority of healthcare facilities implementing continuing education, credentialing, and certification programs, this tool is an invaluable part of your intranet.

Simply manage all staff training and workshop registration online. This includes setting class size, waitlist registrations, automated attendee & facilitator notifications, and attendance & completion reports. Additionally, our one-click integration with Microsoft Outlook Calendars will allow your staff to add any calendared training event to their personal calendar quickly.
Staff Training also contains Self-Serve Learning with our e-Learning applications, which includes sharing knowledge and medical insights among peers.
3. Staff Self-Service
Our Staff Self-Service applications provide invaluable benefits and time-cost savings to a number of departments. Some examples include:
Minimizing IT Department administration of your intranet through smart delegation.
Eliminating manually paper-pushing of forms for your Human Resource Department.
Removing company-wide email communications from Marketing/Communications Department.
Our Staff Self-Service application allows employees to help themselves with online vacation request forms, timesheets, claim forms, and typical HR onboarding forms. Additionally, your staff can quickly find documents and policies that are all indexable and searchable on your Healthcare Intranet. Our Staff Self-Serve Mega Menu takes it one step further by linking directly to file a support ticket, access technical support documents, and chat with IT for technical issues.
One of the most popular areas of the Staff Self-Service Mega Menu is the direct link to the cafeteria menu on the Healthcare Intranet. Not only can you see what's on the menu, but you can enable your staff to pre-order cafeteria meals to be picked up at designated times.

Our Doctors on Call interactive menu allows you to view the available doctors in each department from maternity to neurology, pediatrics, and palliative care. Quickly showcase your Doctors on Call to contact and connect with these doctors online or in-person as needed.
This application can easily embed any employee profile in the Doctor on Call menu to showcase nursing staff, IT resources, and/or interns on call in your hospital, medical center, or end-of-life care facility.
5. Patient Care Feedback
Improving patient care is an ongoing objective for all healthcare organizations. Our Patient Care Feedback applications helps you open the door to candid dialogue with your patients through a free-flow, semi-structured forum where patients can post ideas, suggestions, and stories.
Within the Patient Care Feedback application, you may also provide a rating system to rate different patient services and patient satisfaction, which can include additional areas for textual comments to provide further information on these ratings.
All areas of the Patient Care Feedback application are indexable and searchable with optional archiving and auditing functionality.
6. Staff Conversations
Applications orchestrating Staff Conversations add value to your healthcare facility through employee knowledge sharing, opening new dialogues, and connecting the people behind the patients. Quickly find the right resource by utilizing the Staff Directory to search and view the mini-profile contact card each staff member has on your intranet.
The mini-profile contact card lists each staff member's name, title, ward/department, contact details, and current status.  You can make contact directly from the mini-profile contact card through messaging the employee's wall, sending an instant chat, posting a question, or reaching out by email/phone.
Content sharing on our Healthcare Intranet is a terrific means of collaborating on your intranet through discussion boards, open training sessions, wall posts, sharing valuable resources, and recognition nominations. All of these Staff Conversations applications come fully stocked on your intranet to help your employees connect, collaborate, and create.
7. Intern Evaluations
The Intern Evaluations application on your Healthcare Intranet provides secure access for fellows, mentors, doctors, and/or peers to capture and retain information on interns' performance, including:
Problem Identification
Clinical Reasoning
Diagnoses & Charting
Patient Care Skills
Other Custom Fields
The Intern Assessment application can also include communal comments and discussions surrounding the intern feedback and training processes. All aspects of the Intern Evaluation Assessment Tool are stored securely on your intranet and are searchable only by users with access to the application.
8. Healthcare Exams & Quizzes
Many of our Healthcare Intranet clients offer continuing education and credentialing at their healthcare facility, which is one of the many uses for our online exams and quizzes. Our Healthcare Intranet offers a built-in Staff Training application that allows you to easily manage class registration, online training, and enhanced learning.

Beyond staff training, you can build exams within our popular Form Builder tool on your intranet. Exams, tests, and quizzes can be automatically scored to provide immediate results to the test takers with a pass or fail grade.
The robust Form Builder enables you to create question banks when building your exams and quizzes. Random sequencing in Form Builder provides an interchangeable design to your exams so that users are served up questions in a different order. Building exams and quizzes on your Healthcare Intranet offers you the unique ability to constantly upgrade employee learning opportunities.
Built into your intranet is a Healthcare Fundraising Site that streamlines promotion, fundraising, communication, and event organization into a single site. Delegate ownership of this site to anyone on your healthcare staff to lead the charge as the champion or committee chair. Updating and administering the Fundraising Site is easy with pre-built menus, polls, widgets, and discussion boards.
The Healthcare Fundraising Site also comes equipped with online forms for registrations and donations, event information layouts, contact information layouts, and top staff and donor contributor widgets. Sharing the success of your fundraising events and activities is simple within your Healthcare Intranet with this handy pre-built site.
10. Healthcare Intranet Subsites
The Hospital Ward Site on our intranet provides a terrific foundation to help you create ward sites for every department of your hospital or healthcare facility. Simply clone our Hospital Ward Site (with one click) to quickly expand the availability of unit sites for each area of your organization.
Our Hospital Ward Site comes stocked with pre-built content, including:
Ward Schedules & Calendars
Ward Specific or Company-Wide News
Ward Related Resource Menu
Ward Discussion Boards & Photo Albums
Ward Staff Profile/Contact Cards
With over 20 template applications to choose from, you can quickly modify and update your individual Ward Sites for each unit's distinct needs. Each Ward Site can be individually secured to give access only to the ward or department members. This includes whether or not the Ward Site will display as an option in each individual's intranet menu.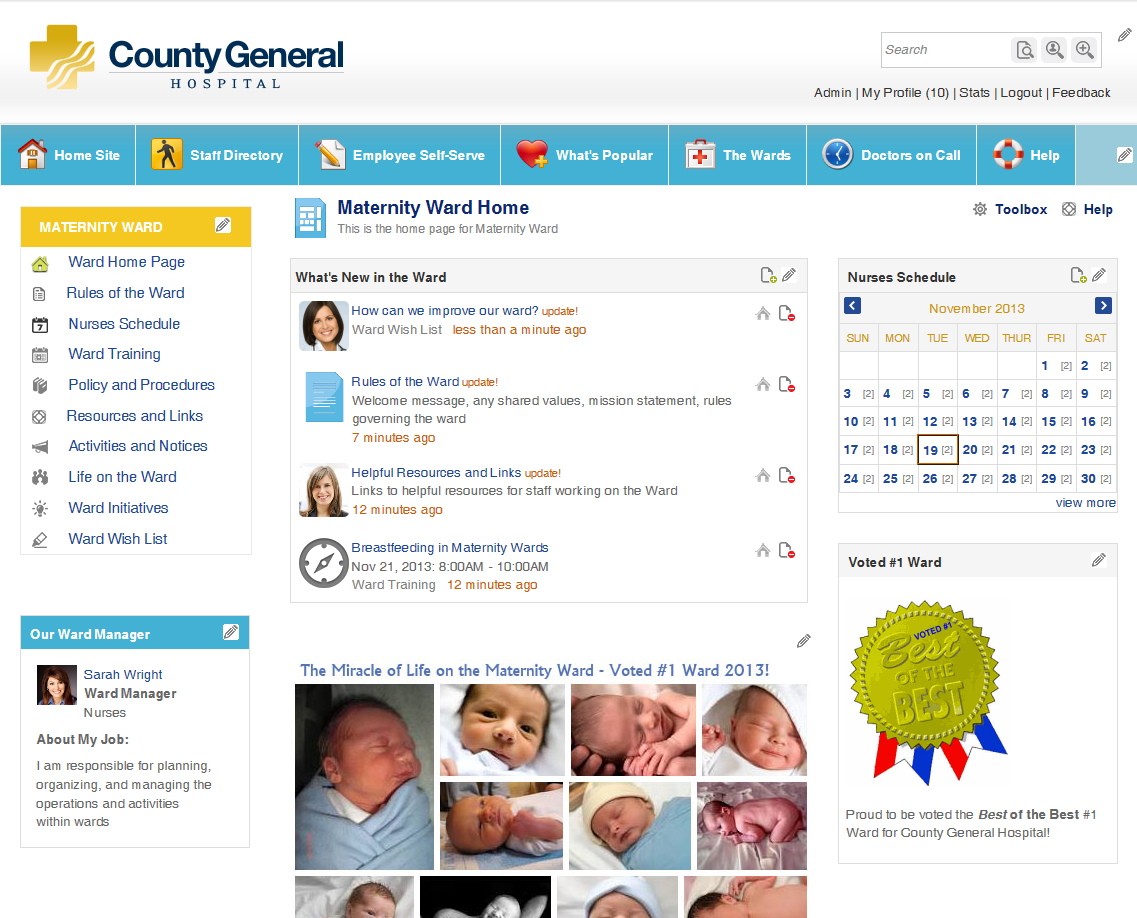 Healthcare Intranet Enhancements
Last year was just the beginning for our Healthcare Intranet Software. Stay tuned to our intranet blog and product enhancement emails to be informed on what's happening going forward.
If you have a healthcare intranet, you can take our complimentary internal communications assessment to see how your efforts stack up! If not, learn more about our healthcare intranet by booking a FREE DEMO with our product specialist today.